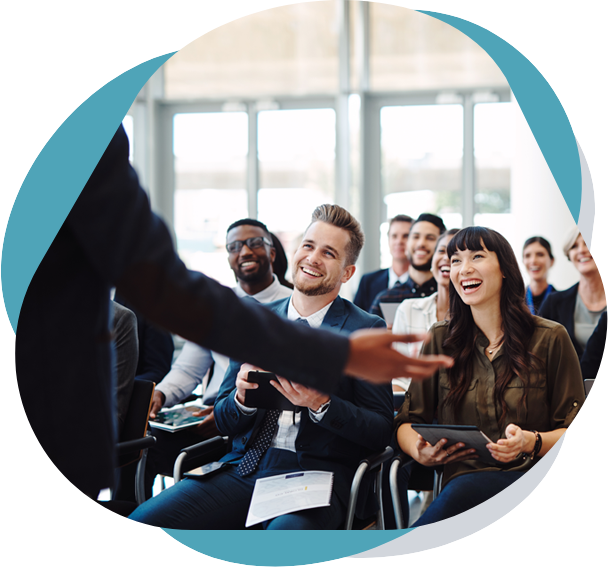 What Can We Do?
Alistair and Gaye offer a range of interactive Presentation and Public Speaking Skills training courses.
Most popular amongst these is the 8-week Speakright course for 10 participants. Also available are customisable courses providing anything from same-day introductory seminars for large audiences through to one-to-one personal coaching on public speaking and confidence skills.
Speakright
An introductory Public Speaking course, usually conducted over 8 consecutive weeks for around 10 participants. This is usually held at your premises and each session is around two hours. We recommend incorporating some of your normal work day for each weekly session, although we can start as early as 7am or finish as late at 6.30pm.
The course content covers dealing with preventing nerves, preparing and practising a speech, handling the requirement for impromptu speaking, delivering and learning from feedback on speeches, running meeting segments (being an MC), organising and structuring your speech, vocal variety, using body language, and adding entertainment value to your speech.
Other elements of the course are:
Weekly one-minute impromptu speech challenges
Delivering four five-minute prepared speeches
Feedback on all prepared and impromptu speeches and other roles
Graduation certificate
This course can be tailored to suit your specific needs.
Speaking Confidence Programme for High Schools Students
We offer a programme to develop the oral communication – including public speaking – skills and confidence of high school students.
A supportive and interactive course, it will improve students' ability to write an engaging speech, to use storytelling to illustrate their ideas, add impact to their speaking through the use of body language and vocal variety, and to speak effectively off-the-cuff.
All students will have the opportunity to prepare and deliver speeches and learn to provide appropriate and rewarding feedback to others on their presentations.
Introductory Seminar
Often run as single one-hour session for larger groups (30-80 people), this interactive seminar offers the participants a brief introduction to some of the skills which will help them gain more confidence in public speaking situations.
The workshop touches briefly on handling nervousness and how to deal with the impromptu speaking situations.
The session provides the opportunity for around 20-25 people to respond to an impromptu challenge and receive feedback on their effort. Non-speakers benefit directly from the feedback as do the speakers.
Tailored Courses
Gaye and Alistair are qualified trainers. We can design and deliver a range of interactive programs to develop you and your organisation's team.
Other Courses
We can also provide various other business leadership workshops:
Parliamentary Procedure
Interactive Communication
Leading Discussions Effectively
Professional Sales Techniques
Informing Your Audience
Technical Presentations
Platform Speaking